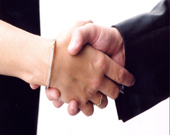 AJM Computer Technology Group, Inc. is an energetic company with experience designing, installing, and implementing budget computer systems for small companies in the New York Tri-State Area. We are an innovative company providing technology solutions and follow-up support to an extensive customer base, each with unique systems needs. Our team strives for customer satisfaction and welcomes technology and systems challenges.
- Whether you are trying to upgrade your home computer to something a bit faster, or need a full corporate computer, network, printing, and security solution, AJM Computer Technology Group, Inc. should be your choice.

In analyzing a company's single or multiple user needs, AJM Computer Technology Group, Inc. can recommend solutions ranging from a single stand alone PC to LANs and WANs.

Our solutions are developed from experience with existing legacy equipment, with new technology and from years of designing successful computer systems for our clients. AJM Computer Technology Group, Inc. studies the quickly changing technology products available in the marketplace, developing simple yet sometimes innovative system solutions for the customer with technology needs.

AJM Computer Technology Group, Inc. services consist of "in the field" (on-site) repair & service, and consulting services. This could include many tasks like, but not be limited to the following:
Consultation with the client, regarding their computer / technology needs, purchases, upgrades, new technology, software, broadband integration, Web & Internet services, estimates, etc.
Interfacing with third party vendors regarding problems, additional services, equipment purchases, infrastructure, wiring, etc. This would include vendors like Verizon, Microsoft, Cable Vision and so forth.
The spec'ing, ordering and tracking of desired equipment purchases.
The installation, loading and configuration of individual workstations (PC's) for the office environment.
The installation, loading and configuration of individual workstations (PC's) for the home or home / office environment.
The installation of standard accessories and software such as PDA's (Palm), printers, scanners, etc.
Quick onsite response for localized problems. The goal is same or next day response for non-critical situations.
Creation and implementation of a data backup plan.
Regular tests of the backup system including test restores.
After hours "dial-in" maintenance, repairs, etc.
Cell phone access to a technician. Brief calls for advice, guidance, problems, pointers, etc. will always be free. Extended calls will be billed at normal rates.
Additional miscellaneous services not mentioned above.
Our main goal is to recommend business solutions that work for the business need at hand, that has the potential to grow & expand with your company, and that is cost effective.

AJM Computer Technology Group, Inc. brings expertise from the inception of the PC revolution to present Internet technology and connectivity. Our years in the computer and information systems field have armed us with the skills to be an asset to you and your clients. Call Us Today!